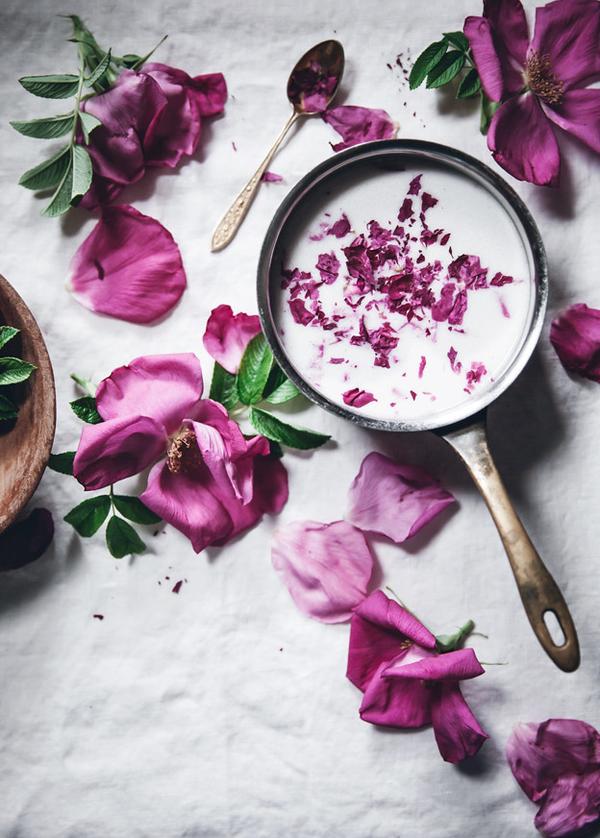 VEGAN COCONUT + ROSE PETAL ICE CREAM WITH CARDAMOM CRUMBLE TOPPING
This ice cream though, never in my life did I expect it to be so creamy and delicious with so few ingredients. I've had some bad experiences with rose flavored things in the past, which I usually find way too "soapy" for my taste. This ice cream has a lovely floral note and the rose flavor is not overwhelming. If you want more rose flavor, you can always add more rose petal tea to your liking or even a little rose water. Of course, you also have to be very into the coconut to like this ice cream. Don't miss out on the cardamom crumble topping, which adds a lovely crunch.
Ingredient
For the ice cream
2 cans (400 ml x 2) of full fat coconut milk
pinch of salt 
1 vanilla bean (split, and seeds scraped out)
1/2 cup (115 g) turbinado sugar (you could also use granulated sugar or maple syrup)
6-8 tbsp rose petal tea 
Cardamom crumble
Recipe adapted from Tea Malmegård's book "Desserter!" 
3 tbsp + 1 tsp (50 g) turbinado sugar
2/3 cup (90 g) all purpose flour
pinch of salt 
3 tbsp + 1 tsp (20 g) rolled oats
1 tsp freshly ground cardamom 
4-5 tbsp coconut oil (not liquid but not completely firm either.. put the jar in the fridge for a while if too liquid) or 60 g of softened butter
For the topping
Dried rose petals
1. Place coconut milk, salt, vanilla bean+seeds, sugar and rose petal tea in a saucepan. Heat until mixture is hot but not boiling. Stir until sugar is dissolved. Remove from heat and put a lid on the pan. Let the mixture steep for 30 minutes.
2. Strain through a fine wire sieve into a bowl. Cover bowl with plastic wrap and refrigerate until completely cool.
3. Using an ice cream machine, churn the ice cream according to the manufacturer's
instructions. Once the ice cream reaches soft-serve consistency, transfer to a freezer-proof container, sprinkle some extra dried rose petals on top and freeze until
firm enough to scoop, approximately 2-4 hours. If the ice cream feels hard after some time in the freezer, remove it from the freezer 15 minutes prior to serving.
Cardamom crumble topping
1. Preheat oven to 175°C (350°F).
2. Place sugar, flour, salt, oats, cardamom and coconut oil in a bowl. Using your hands, mix together until crumbly.
3. Spread on a baking paper covered baking sheet and bake for 8-10 minutes. Let cool, then serve with ice cream.