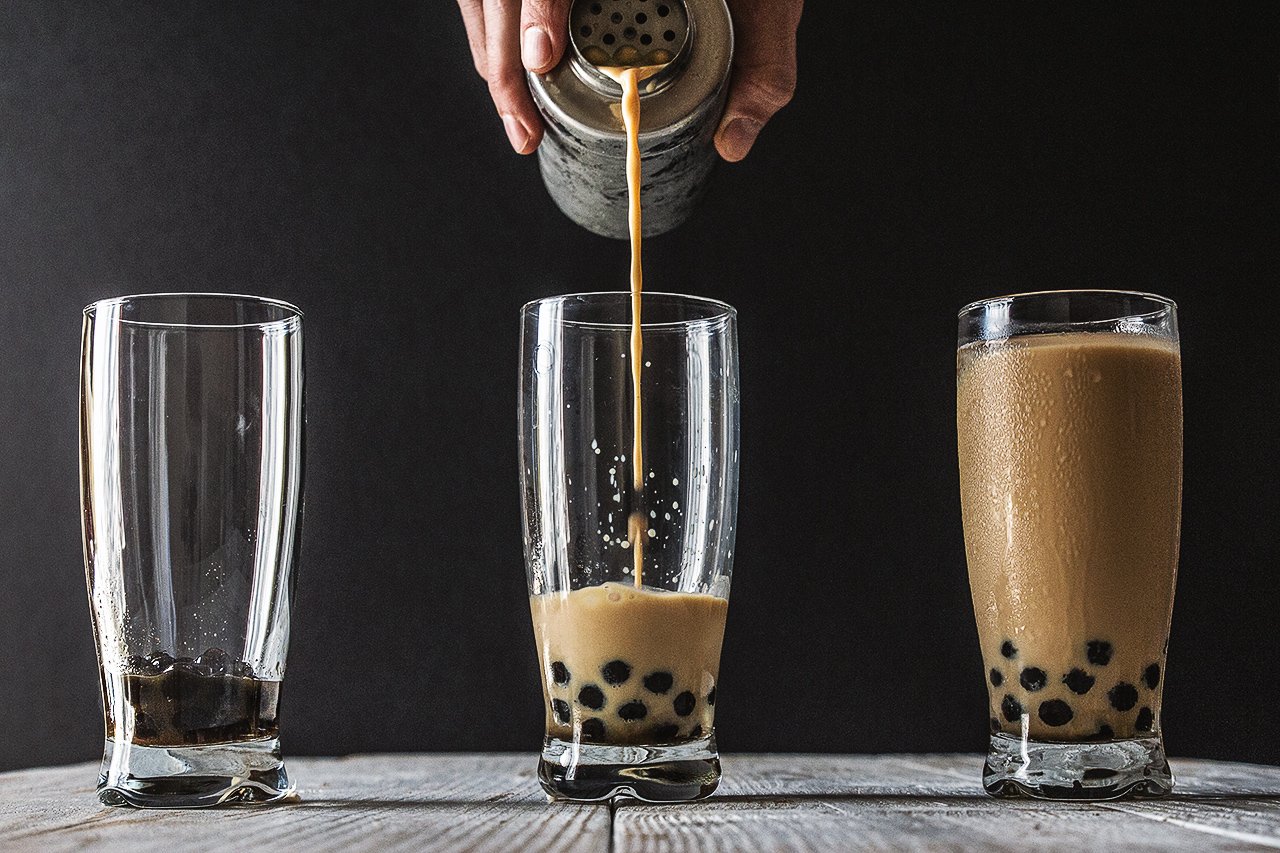 How to make Pumpkin Spice Bubble Tea With BOBA

(makes 1 large serving, or two smaller servings of tea)
Ingredients:
1 cup whole milk
3 1/4 cups water
two tea bags of Ceylon black tea
1/4 cup brown sugar
1/4 cup pumpkin puree
1/4 teaspoon pumpkin spice blend (ground)
1/4 cup tapioca pearls
Directions:
  For the pumpkin spice syrup
Add pumpkin puree and 1/4 cup of water to a small saucepan over low heat and stir to combine.
Remove from heat and strain through a coffee filter. Be patient, as the mixture might take 10-15 minutes to pass through completely. Gently use your hands to squeeze any excess water from the puree. Try your best not to break the filter when doing so.
Add the pumpkin water back into your saucepan over medium heat, then add the pumpkin spice and the brown sugar. Cook at a low simmer until the sugar has completely dissolved – about 3 minutes. Remove from heat, transfer to a large bowl and let cool to room temperature.
  For the boba
Add two cups of water to a medium saucepan and bring to a boil. Add boba and quickly stir until the boba are all floating at the surface.
Decrease the heat to medium and cook for 15 minutes.
Remove from heat, cover, and let sit for another 15 minutes.
Strain the boba, then transfer into the pumpkin spice syrup until ready to serve. Use within 5-10 minutes while fresh, or keep them inside the syrup and refrigerate.
  For the tea
Add two tea bags to one cup of boiling water and steep for 15 minutes. Remove tea bags and let the tea cool to room temperature.
  For the drink
Spoon the boba to bottom of a tall glass.
Add the milk, tea and 1 1/2 oz of the pumpkin spice syrup to a shaker. Fill the shaker halfway with ice and vigorously shake for 5 seconds.
Strain into the glass overtop the boba. Add some new ice, a wide mouth straw, and serve!
(Recipes and mages by HonestlyYUM)
Like Our Tea Blog? Click here to subscribe for our Daily Newsletter!