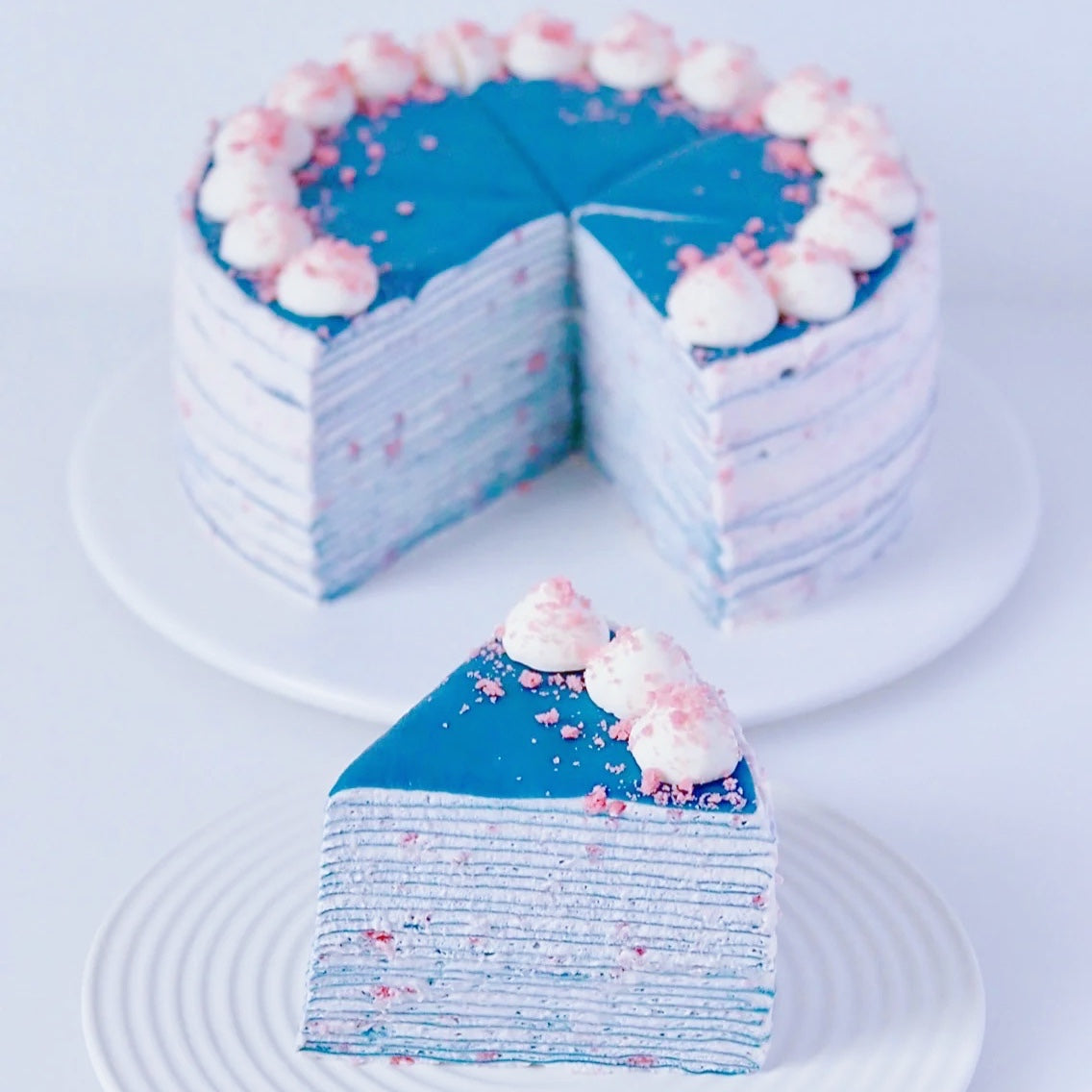 Blue Matcha Crepe Cake
Ingredients
For Crepes:
3 large eggs
1 cup of milk
1 cup of hot water
1 cup all purpose flour
3 tbsp sugar
3 tbsp avocado oil
3 tsp of Suncore Foods® Cosmos Red Cabbage Supercolor Powder
Pinch of Suncore Foods® Rose Salt

For Cream Filling:
1 1/2 cups whole milk
1 vanilla bean or vanilla extract
7 tbsp sugar
3 tbsp cornstarch
3 egg yolks
2 tbsp unsalted butter
3 cups heavy whipping cream
⁣
Directions
1. Dissolve Suncore Foods® Cosmos Red Cabbage Supercolor Powder in water. Blend all the ingredients for crepes in a bowl of a stand mixer until smooth and lump-free. Preheat a nonstick or cast iron skillet over medium heat. Lightly butter the pan and pour some batter over the pan spreading the batter evenly on surface of the pan. Cook for 1 to 2 minutes or until the edges of the crepe start to lift up. Use a wooden spatula to flip it over. Cook the other side for about 1 minute. Place the cooked crepe on a plate and repeat until you have cooked all the batter.
2. To make The Cream — Simmer 1 cup of milk and vanilla seeds and vanilla pod in a medium saucepan. While the milk is heating, in a small bowl, whisk together the sugar,cornstarch and salt. Whisk in the remaining milk and yolks. When the mixture reaches a simmer slowly pour the hot milk into the egg yolk mixture while whisking continuously. Return mixture to the saucepan and reheat over medium heat whisking constantly, until a few bubbles burst on the surface. Remove from heat and strain the cream through a fine mesh. Add butter and whisk until the cream is shiny and smooth. Refrigerate until cold and set for about an hour. In a bowl of a stand mixer beat whipping cream until cream holds stiff peaks. Using a spatula gently fold the whipped cream into chilled pastry cream.
3. To Assemble — Place one crepe on a cake stand and top with a dollop of the filling.Using a small spatula spread the filling into a thin layer. Repeat, alternating layers of crepe and filling. Refrigerate the assembled cake for 1 hour. You can use the baking ringto cut out the edges of the cake for the neater look. Garnish with fresh berries or flowers, if desired.