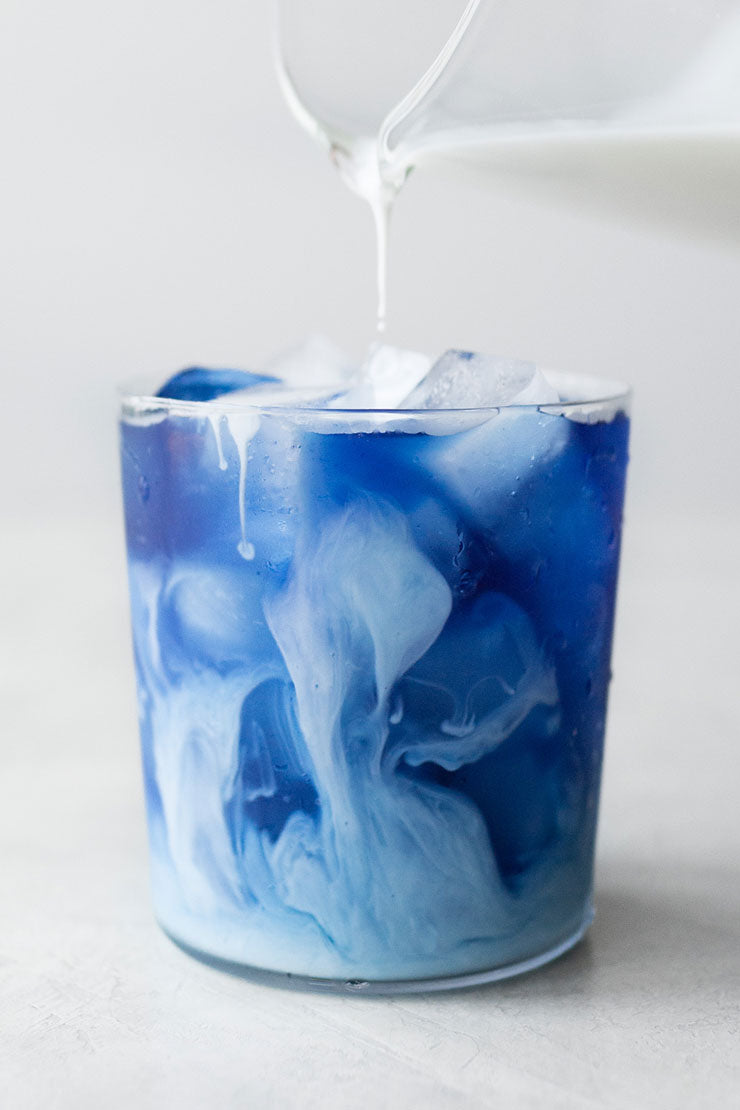 ICED BUTTERFLY PEA FLOWER TEA LATTE
A pretty blue herbal tea latte made with butterfly pea flowers. Add a splash of milky goodness to get a gorgeous creamy swirl. See how easy it is to make!
ICED BUTTERFLY PEA FLOWER TEA LATTE
The blue color comes naturally from the purplish blue petals of the butterfly pea flower.
It's an herbal tea and caffeine-free.
Also known as a blue tea.
You can

 

make tea

 

with the flowers and you can also make a tea latte by adding a little milk and sugar.
RELATED: How to Make Butterfly Pea Flower Tea Properly
I don't love the taste of this drink but EVERYONE loves the way it looks, so here we are. 
Imagine going for a walk in the woods and you pick up some twigs and dry leaves. Then let's pretend you boil that in hot water. That's what butterfly pea flower tastes like. 
Adding lemonade or lemons to butterfly pea flower tea make it taste better and it's how I drink it. The brightness from the lemons work well to mask the muskiness from the tea. 
Loose butterfly pea flowers are whole, dried flowers. Butterfly pea flowers tea bags are flowers that have been crushed into small bits.
Loose, whole butterfly pea flowers are better quality than tea bags but for recipes or drinks where you're adding milk and sugar, tea bags are easier to use than loose flowers.