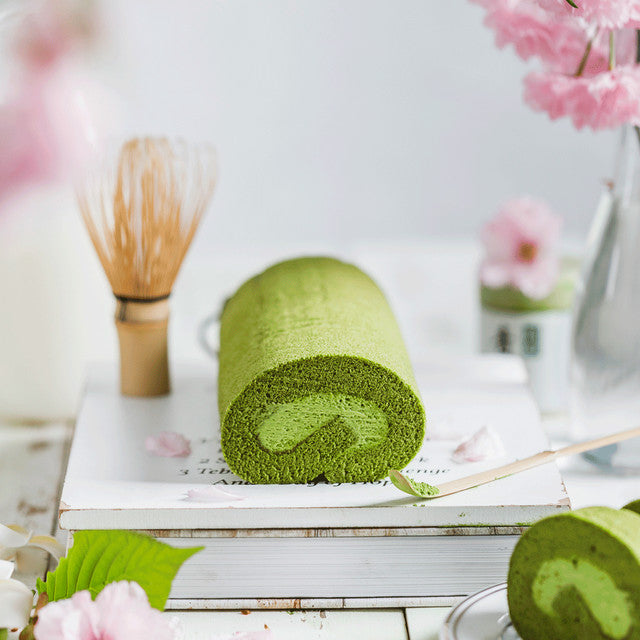 How to make Matcha Swiss Roll
Swill Rolls, or Roll Cakes (ロールケーキ) which we call in Japan, are a type of sponge cake filled with whipped cream, buttercream, custard cream, and sometimes include fruits like strawberries.
 Matcha Swiss Roll (抹茶ロールケーキ) is always a popular choice in Japan. If you have a soft spot for anything matcha green tea, I am pretty sure you're going to be as obsessed with this cake as I am.
The main ingredient we used in this Matcha cake roll is our Premium Gyokuro Matcha.  Our Gyokuro Matcha originates from the foothills of Japan's tea capital, Uji where most Japanese teas are grown. Carefully hand selected, we ensure the highest quality of Matcha is shipped to us from Japan.
Ingredients:
3/4 cup cake flour
1/4 cup matcha green tea powder, divided
3/4 teaspoon baking powder
2 eggs, separated
1/2 cup white suga
1/4 cup sour cream
3 tablespoons 2% milk
1 cup heavy whipping cream
1 tablespoon white sugar
Direction:
Prep: 25 m
Cook: 8 m
Ready In 2 h 3 m
Preheat oven to 400 degrees F (200 degrees C). Line a rimmed baking sheet with parchment paper.
Sift flour, 3 tablespoons matcha powder, and baking powder together 3 times in a bowl.
Beat egg whites in a clean bowl using an electric mixture until stiff peaks form.
Beat egg yolks in a separate bowl using a clean beaters until very light. Add 1/2 cup sugar and sour cream; beat until light. Beat in flour mixture and milk until smooth. Fold in the egg whites. Smooth batter evenly over the prepared sheet.
Bake in the preheated oven until a toothpick inserted into the center comes out clean, about 8 minutes.
Trim any uneven edges off the cake. Roll cake up in the parchment starting from the short side. Place on a rack and cool completely, at least 30 minutes.
Beat cream in a chilled glass or metal bowl with an electric mixer until soft peaks form. Add remaining 1 tablespoon matcha powder and 1 tablespoon sugar gradually, continuing to beat until stiff.
Unroll the cake and spread whipped cream over the top. Roll the cake up, peeling the parchment away and discarding it. Refrigerate cake roll for 1 hour before slicing.