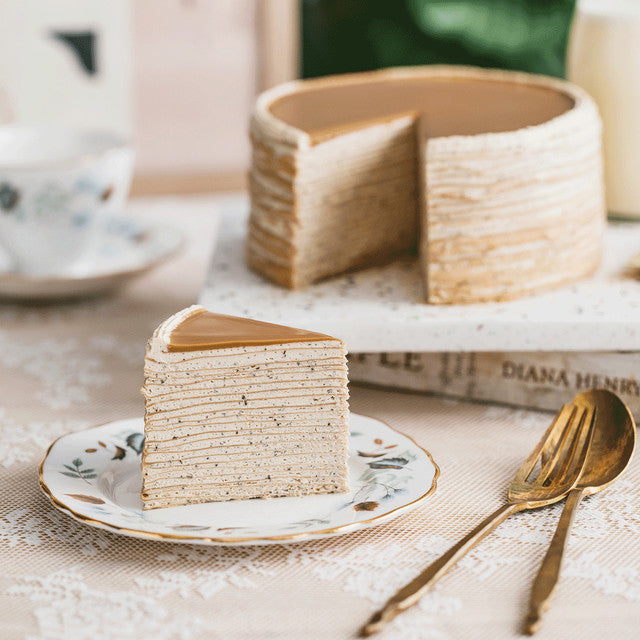 How to Make Lady M's Earl Grey Crepe Cake
Dessert aficionados may recognize the name Lady M as a French patisserie, famous for their delectable 20-layer mille crepe cake, available in a variety of flavors. Sadly, not everyone has the chance to pop into one of their major cosmopolitan locations. Try this recipe instead—with the addition of warm tea-steeped milk, this impressive dessert tastes just like a fragrant cup of earl grey tea. 
Lady M's Earl Grey Crepe Cake
Prep Time:1 hr
Cook Time:1 hr
Total Time:2 hrs
Servings:12
Ingredients
1 egg
1 tablespoon all-purpose flour
1 tablespoon granulated sugar
1 tablespoon cornstarch
1 ¼ cup milk
1 teaspoon pure vanilla extract
5 tablespoons melted butter
2 ½ cups milk
5 eggs
1 ¼ cups all-purpose flour
3 tablespoons granulated sugar
2 tbs lemon juice
Pinch salt
2 cups double cream
2 tbs powdered sugar
1 earl grey teabag
STEP 1

For the pastry filling, bring the 1 ¼ cups milk to a near boil over medium heat. Once simmering, lower the heat and steep the 3 teabags in the milk for about 5 minutes. 

Meanwhile, whisk together the egg, 1 tbs flour, 1 tbs sugar, and cornstarch in a bowl until smooth.

STEP 2

Remove the milk from heat and gradually stir into the egg mixture. Return all the ingredients to the stove and keep stirring until thick.

STEP 3

Remove from heat and add vanilla extract. If it's looking too clumpy, you may want to stir in an extra tablespoon of milk. Refrigerate until firm.

STEP 4

Whip the 2 cups of cream with a hand mixer. Add in the 2 tbs powdered sugar and tea leaves in the earl grey teabag. 
Slowly fold the earl grey pastry cream prepared in Steps 1-3 into the whipped cream until smooth. Refrigerate the filling.

STEP 5

For the crepe batter, heat the 2 ½ cups milk until steaming. Remove from heat and let cool slightly. 
In a separate bowl, mix together the 5 eggs, 1¼ cup flour, 3 tbs sugar, 5 tbs butter, and salt. Slowly add in the warm milk and mix until smooth.

STEP 6

To make the crepes, melt 1 tbs butter on a pan over medium heat. Pour about 3 tablespoons crepe batter in the pan and swirl until the surface is covered. 
Flip after about a minute, or once the edges start crisping up. Repeat until you have a stack of 20 crepes (but if you run out of energy, a shorter cake will taste just as good).
STEP 7

To assemble the cake, lay down a crepe and evenly spread dollop of the earl grey cream filling over the crepe. Lay down another crepe on top. Keep going until the cake is complete.
STEP 8

Once your cake is assembled, cut the tip off a corner of a Ziploc bag and fill with leftover cream to pipe whatever decoration you'd like on top, or simply finish with a dusting of powdered sugar. Take lots of pictures and enjoy
Like Our Tea Blog? 
Join us
 to for weekly free recipe!